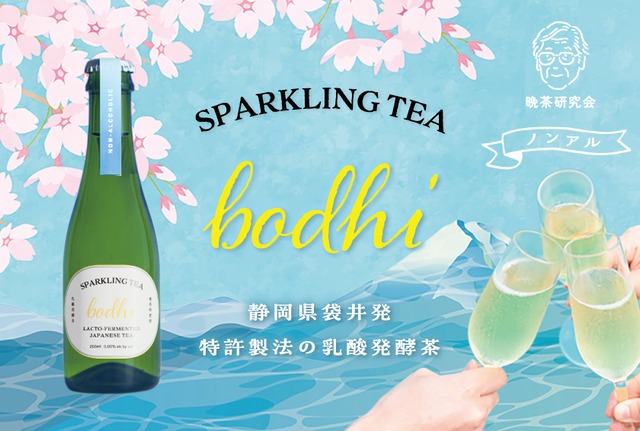 【8本セット 常温 送料無料】無添加・天然乳酸発酵茶 スパークリングティー 200ml✕8本 菩提酸茶 sparklingtea
SOLD OUT
ボーディーは静岡県袋井市菩提地区の茶を、伝統製法に学んだ特許製法により天然乳酸発酵した後発酵茶「菩提酸茶」のスパークリングティーです。
柑橘系の香りと、さわやかな酸味が特徴です。乳酸発酵特有の華やかな香りと、ノンカロリーであるお茶の特性を併せ持つ新時代のノンアルコール飲料としてお楽しみいただけます。

《無添加で常温保存可能なスパークリングティー》

一般的な緑茶や紅茶などのスパークリングティーは中性に近く、殺菌後も10度以下で保管する必要があります。bodhiは乳酸発酵茶を原料に使用しているため、抽出液はpH4.0を下回り殺菌後に常温保管が可能です。

《茶葉、抽出成分由来のにごりや沈殿物があります》

濁りは瓶を静置しておくことで、次第に沈殿し薄れていきます。底部に沈殿物がありますが、茶葉及び抽出成分由来のものですのでそのままお飲みいただけます。

名称:清涼飲料水(炭酸飲料)
原材料名:後発酵茶(静岡県産)、炭酸
内容量:200ml
賞味期限:2024.1.29
保存方法:直射日光、高温を避け常温で保存(縦置き)
販売者:長峰製茶株式会社

Bodhi is a sparkling tea made from Bodhi sour tea, a post-fermented tea made from tea grown in the Bodhi area of Fukuroi City, Shizuoka Prefecture, which is naturally lactic acid fermented using a patented process learned from traditional methods. It is characterized by its citrus aroma and refreshing sourness. It can be enjoyed as a non-alcoholic beverage of the new age, combining the gorgeous aroma unique to lactic acid fermentation and the characteristics of non-caloric tea.

Sparkling tea that is additive-free and can be stored at room temperature

Sparkling teas such as green tea and black tea are generally neutral and need to be stored below 10°C even after sterilization. bodhi uses lactic acid fermented tea as its raw material, so the extract is below pH 4.0 and can be stored at room temperature after sterilization.

The tea leaves and extracted ingredients may be cloudy or precipitate.

The cloudiness will gradually settle and fade as the bottle is allowed to stand. The sediment at the bottom of the bottle is derived from tea leaves and extracted ingredients, and can be consumed as is.

Name: Soft drink (carbonated beverage) Ingredients: Generally fermented tea (Shizuoka Prefecture), carbonic acid Content: 200ml Shelf life: November 22, 2023 Storage method: Store at room temperature (upright), away from direct sunlight and high temperatures Seller: Nagamine Tea Manufacturing Co.
Add to Like via app
Reviews

(0)

Shipping method / fee

Payment method
¥9,600 tax included
SOLD OUT